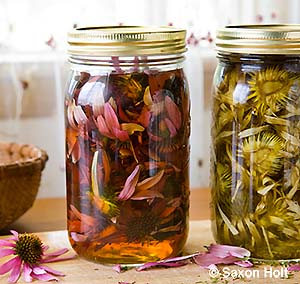 Herbalism ~ Ancient Traditions & Modern Approaches: September 12 & 13 and October 24 & 25
Join us for a two part workshop focusing on herbal medicine traditions & practice, including hands-on experience with making & pressing herbal tinctures. Participants will take home a selection of the tinctures made during the workshops! Classes open to the public. Massage therapists can receive up to 24 CEs.  Details below.
Saturday September 12~ Herbalism: Level I ~ 10:00 A.M. to 5:00 P.M. ~ CE Credits: 6 ~ Cost: $60.00 (lunch will be provided)

Saturday's workshop will cover the fundamentals of herbalism, including all components of herbal treatments from aroma therapy to homeopathy to infusions, to tinctures, to the use of raw herbs and oils. Participants will also learn how herbal medicine has been used over the last 5000 years, including why Native Americans and other cultures used the new and full moons in planting and harvesting cycles for their remedies. Registration is limited to 30.
Sunday September 13, Saturday October 24 and Sunday October 25 ~ Herbalism: Level II ~ Making Tinctures! ~ 10:00 A.M. to 5:00 P.M. ~ CE Credits: 18 ~ Cost: $210.00 (lunch will be provided)

The main focus of these workshops will be learning about all aspects of making tinctures, including the Eclectic Physicians strident standards for tinctures. Participants in this workshop must have attended the September 12 Level I workshop or have demonstrated experience & knowledge. The final workshop will include comparing and contrasting herbal and conventional treatments, functions of the different herb groups and the afternoon will be devoted to preparing the tinctures started in September – pressing, filtering, labeling and bottling – participants will be able to take home a sample of some of the tinctures they make! Registration is limited to 20. Lunch will be included.
Registration information will be provided soon.
Coming soon:  Aromatherapy!